The 2022 AMP Financial Wellness report reveals financial stress is increasing
Sweaty palms. Short of breath. Mind racing. We all know the signs of getting into a 'hot state' when it comes to our finances. And the worrying news is that it's happening to more of us more of the time.
AMP's 2022 Financial Wellness report reveals that financial concerns are very much top of mind, leading to anxiety and guilt.
And it can be a vicious circle. A prolonged hot state of stress can reinforce future negative expectations as it's difficult to envisage a more positive situation.
The result? It makes it difficult to look at your future financial position rationally and objectively as you can get so caught up in day-to-day worries.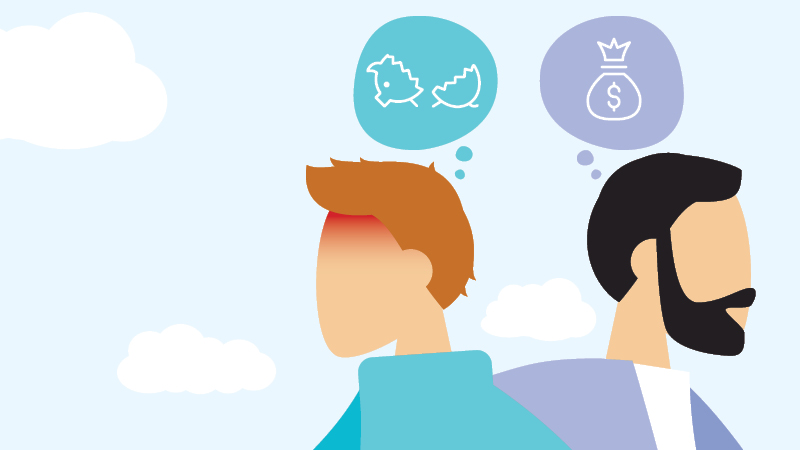 Hot under the collar at work…
The report highlights that financial stress is increasing, with 64% of working Australians reporting some level of stress. Almost a million employees are severely financially distressed and just over two million are moderately distressed.
In total, more than one in five working Australians are suffering from severe or moderate financial stress, with 21% of employees prevented from working productively—almost double the number reported two years ago. We end up spending a total average of 10.8 hours a week dealing with financial matters and stress at work.
In the context of our careers, this means we're feeling pessimistic about our prospects, pay rises and promotions. And we're feeling less satisfied, energised and engaged by our work.
In short, we're operating on autopilot.
How to cool down and take stock of your finances
So if you feel you're in a hot state, how can you cool down and start taking control of your finances? It's difficult but the answer could lie in positive, constructive and easily digestible actions.
And if you're an AMP customer and times are tough, you can reach out for financial hardship assistance and we'll work with you to find ways we can help.
Ask for help
Sometimes it's hard to know where to start and you can feel overwhelmed, so speaking to an expert can set you on the right path – if you're an AMP super member you can book in for a complimentary Super Health Check or Retirement Health Check.
Speak to an expert
If you're an AMP super member, explore your complimentary advice options
You might also be interested in
Any advice and information is provided by AWM Services Pty Ltd ABN 15 139 353 496, AFSL No. 366121 (AWM Services) and is general in nature. It hasn't taken your financial or personal circumstances into account.

It's important to consider your particular circumstances and read the relevant product disclosure statement, Target Market Determination or terms and conditions, available from AMP at amp.com.au, or by calling 131 267, before deciding what's right for you.
You can read our Financial Services Guide online for information about our services, including the fees and other benefits that AMP companies and their representatives may receive in relation to products and services provided to you. You can also ask us for a hardcopy.
All information on this website is subject to change without notice. AWM Services is part of the AMP group.
The super health check is provided by AWM Services and is general advice only. It does not consider your personal circumstances.
The retirement health check is a general advice conversation only. It is provided by AWM Services Limited (AWM Services) ABN 15 139 353 496, AFS Licence No. 366121 (AWMS) to eligible members of the AMP Super Fund. AWM Services is a wholly-owned subsidiary of AMP.