AMP eSuper is an online service that you can use to easily manage your employee super payments. You can use this online service if you have 20 or more employees, and either:
a minimum of 50% of your employees have chosen AMP as their default fund, or
the online service has been approved by us (AMP).
AMP eSuper offers employers a clearing house facility to help manage super payments easily where the employee has made a choice about how their super is to be invested.
The clearing house facility allows you to use a single process to submit contributions to a variety of funds for employees who have exercised their right to choose a fund for Superannuation Guarantee contributions ("choice funds"). You submit the contribution payments and data to AMP, and we then disburse the data and payments to the external fund administrators for the choice funds.
You can only choose one service provider for payments. If you decide to use an external service provider or clearing house, then please confirm with your payroll or service provider that they're certified and comply with SuperStream requirements. A list of approved service providers can be found at ato.gov.au/Super/SuperStream.
We may take up to 10 business days from the date all correct information and payment amounts are received to forward the contributions to choice funds.
What can you do using AMP eSuper?
You can do the following with AMP eSuper:
pay super contributions for your employees electronically to your AMP default fund and choice funds
pay up to four different contribution types (ie employer, employer additional, salary sacrifice and member) both to your AMP default fund and to choice funds
update employee details in your AMP default fund
add new employees to your AMP default fund, and
notify us when employees leave your AMP default fund.
For more information please view Information Sheet.
You can see how to use eSuper for default and choice payments in these demos.

Register for AMP eSuper
Complete a registration form online or download an application form, complete and send the form back to us by email, fax or mail.
eSuper enquiries for employers
1800 802 266
eSuper@amp.com.au
AMP eSuper Administration Team
Locked Bad 5400
PARRAMATTA NSW 1741
Fax - 02 8837 7859
Monday to Friday, 8.30am – 5pm (AEST)
AMP's SuperStream solution
AMP eSuper and AMP Super Online both meet all requirements of the new data and payment standards on electronic contributions to super, introduced under the government's SuperStream legislation.
SuperStream is intended to increase the efficiency of super transactions by improving data, processes and timeliness of super rollovers, employer contributions, member registrations, and by reducing the number of lost accounts and unclaimed super.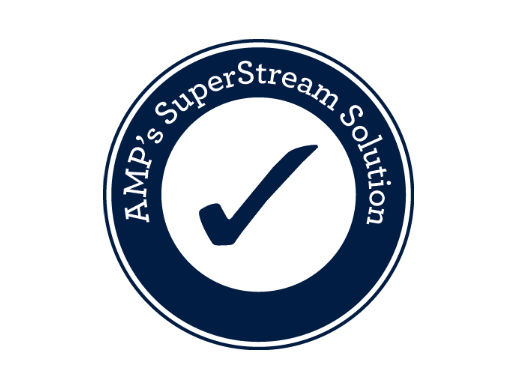 To find out how easy it is to use AMP eSuper, please click on any of the demos below.
eSuper and Choice demos are short video clips showing how employers can navigate and use the features of AMP eSuper.
Click the list button in the top left of the video to view the full playlist.
eSuper videos
Choice videos
What's a 'clearing house' facility?
AMP's clearing house facility is available through eSuper for all employers who have established an employer plan in SignatureSuper®.
The clearing house facility helps you reduce the administration and costs involved with super choice by enabling you to make contributions to any number of super funds should any of your employees choose another fund for their super contributions.
Important Information
SignatureSuper is issued by N.M. Superannuation Proprietary Limited (N.M. Super) ABN 31 008 428 322 (trustee), which is part of the AMP group (AMP).
The super coach session is a super health check and is provided by AWM Services. It is general advice conversation only. It does not consider your personal circumstances.
Before deciding what's right for you, it's important to consider your particular circumstances and read the relevant Product Disclosure Statement, Target Market Determination, or Terms and Conditions available from AMP at amp.com.au or by calling 131 267.
Any advice and information provided is general in nature, hasn't taken your circumstances into account, and is provided by AWM Services Pty Ltd ABN 15 139 353 496 (AWM Services), which is part of the AMP group (AMP). Read our Financial Services Guide for information about our services, including the fees and other benefits that AMP companies and their representatives may receive in relation to products and services provided to you. All information on this website is subject to change without notice.
SignatureSuper is a registered trade mark of AMP Limited ABN 49 079 354 519.
Any video content on this page was current on the date it was published. As a result of changes to the business from time to time, including changes to product, product issuer, services, trust, trustees and other entities, the information may no longer be current. For up to date information, we refer you to the relevant product disclosure statement and product updates.