Super designed for your wellbeing
Your employer's AMP super plan offers more than just competitive fees. It's a complete wealth solution that can support your financial wellbeing now, and help you make the most of your money for retirement.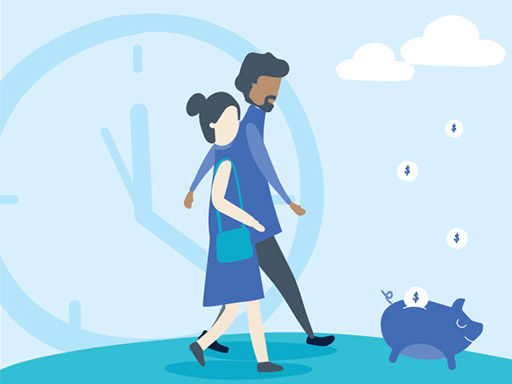 Why choose AMP Super

Expertly managed super

Competitive fees
A choice of investment options, including a MySuper solution that's tailored to your age group

Specially negotiated insurance may also be included
Access to education and tools to help you live well today and reach your life goals
Access to individual support, expert help and financial advice for different budgets on request.
1
Get to know the benefits
Before you sign-up, take some time to understand what comes with your employer's sponsored AMP super plan (this webpage is a good place to start). Or book a chat with a super coach.

2
Sign-up to AMP super​
​If you've chosen the AMP super plan, you can join online in just 2 minutes.
3
Tell your employer
Once you've signed-up to the AMP super plan, simply follow the prompts to let your employer know where to pay your contributions. 

4
Make it work for you
After you're all set up, we'll be in touch with ways you can stay on top of your super.

Already have an AMP super account? 
​If you have an existing AMP super account and want to use that instead of joining your employer's sponsored plan, you can fill out this choice of fund form and give it to your employer.​
There may be differences between the two AMP plans, so make sure you compare the features and benefits before deciding – a chat with a super coach may help.  
Education & support
Our national research initiative tells us that nearly 2.5 million Aussies say they feel moderately to severely financially stressed1.
To help, we've developed market-leading financial wellness programs to support your financial wellbeing. Including:
Complimentary super health checks - Get 1:1 support with a super coach covering the benefits of joining AMP super, tools and support, investment options, insurance and other general questions at a time that suits you
Financial education ranging from understanding money basics to exploring personal goals. Including workplace seminars, online learning, useful tools and calculators
Financial advice for different budgets on request
The latest financial insights written by experts, delivered to your inbox.
Easy online access through My AMP

My AMP is the easy, convenient and secure way to manage your super and money online. Simply register with your account number to:
Feel in control of your finances – easy management of your banking, super, investments and insurance online, including any non-AMP accounts
Manage your accounts – consolidate any lost super, manage your investments, access reports, and update personal information
Track your cashflow – our budgeting tool allows you to set up, track and manage your budget all in one place
Set and track your goals – make plans for your money and track how you go.
SignatureSuper is designed for members who want to grow their super savings for their retirement. It's also a personal super and pension product for members to use throughout their life.
SignatureSuper is an allocated pension account that helps you access your super as a regular income in retirement. Get all the detail of its performance, and download the fact sheets.
We're here to help
Monday to Friday 9am – 5pm Sydney time
Products in the AMP Super Fund and the Wealth Personal Superannuation and Pension Fund are issued by N.M. Superannuation Proprietary Limited (N.M. Super) ABN 31 008 428 322 (trustee), which is part of the AMP group (AMP).
This information is provided by AWM Services Pty Ltd ABN 15 139 353 496 (AWM Services) and is general in nature only. It hasn't taken your financial or personal circumstances into account.
It's important to consider your particular circumstances and read the relevant Product Disclosure Statement, Target Market Determination or Terms and Conditions available from AMP at amp.com.au or by calling 131 267, before deciding what's right for you.
Read our Financial Services Guide for information about our services, including the fees and other benefits that AMP companies and their representatives may receive in relation to products and services provided to you. All information on this website is subject to change without notice. AWM Services is a part of AMP group.
The super health check is provided by AWM Services and is a general advice conversation only. It does not consider your personal circumstances.
AMP super refers to SignatureSuper, a product in the AMP Super Fund.​
The super health check is provided by AWM Services and is general advice only. It does not consider your personal circumstances.