My AMP allows you to access and manage your accounts online, providing you with a complete picture of your financial situation.
With My AMP you can:
manage your AMP banking, super, insurance and investment accounts
contribute to super, find lost super, consolidate super accounts
view your AMP and non-AMP accounts and transaction summaries
generate personalised reports
access news, education modules, simulators and calculators.
You can also access My AMP on the move with the My AMP app, available on iPhone, iPad, Apple Watch and Android.
Download the mobile app



How do you register for My AMP?
You can register for My AMP online here or via the My AMP app which you can download via the App Store or Google Play depending on what device you have. It's quick and easy, just make sure you have your account number handy.

How do you view your non-AMP accounts?
Extra functionality means you can view your AMP and non-AMP accounts in the one place. This means you can:
view bank, credit card, loan, super and investment account details from over 200 financial institutions
track your spending and categorise transactions to see where your money goes
generate reports through the Money manager tool which allows you to create graphs around your spending, savings and cashflow.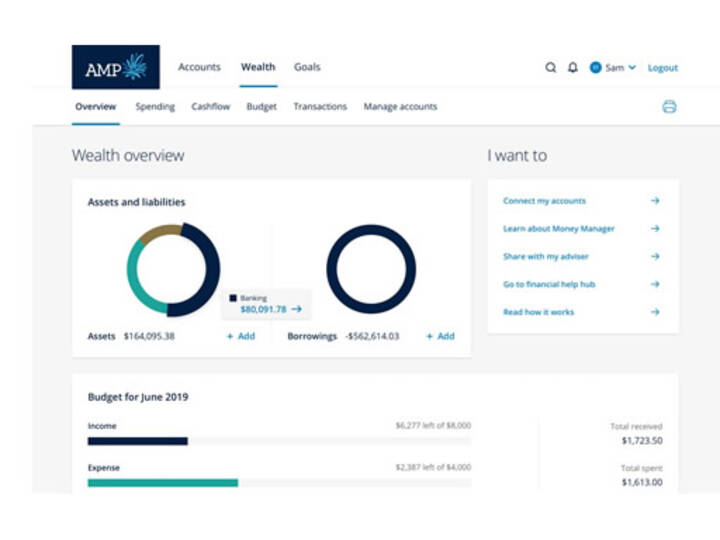 Frequently asked questions

Where do I find my account number?
You can find this on your welcome letter, bank or member statement. If you don't have these on hand, please call us on 1300 657 801. We're open Monday to Friday 8am to 8pm and on Saturday and Sunday from 8am to 5pm (AEST).
How do I unlock my account?

If you have locked your account due to three incorrect password attempts, click on 'Forgot your username or password' in the login box to reset your account. Alternatively, you can call AMP on 1300 657 801.

How do I give my spouse visibility of my account/s?

If you're an AMP Bank customer, you will need to complete and return a Third Party Access Form to grant full visibility and transactional rights to someone else (an authorised signatory on a personal, business or trust account).  If the person being given access is not an existing AMP customer, they will need to complete and return the Identification Verification Form.
Once access is granted, they can move between accounts via the account tab at the top right-hand corner of the My AMP secure site.
If you're an AMP wealth customer, you can manage linked portfolios online by clicking on the profile button (person icon) at the top right-hand corner of the secure site.  Both parties will need to approve the request online before access is granted.

I can't see my New Zealand accounts in My AMP – how do I add them?

Your New Zealand AMP products are not available in My AMP. Please log in via amp.co.nz to access your New Zealand AMP accounts. If you've forgotten your username or password, you can retrieve these via the login page. 

What browsers can I use to access My AMP?

For security reasons, browsers supported include: Chrome, Firefox, Safari and Internet Explorer 9, 10 and 11.

Will my North and SMSF products sit on My AMP?

You can view and track your North products on My AMP, however, you will need to login to North Online to manage them (for example changing your investment mix).
You can view and manage your self-managed super (SMSF) accounts via the AMP SMSF Solutions site on amp.com.au.

Where do I find secure messaging in My AMP?

If you're an AMP Bank customer, you can contact AMP Bank via a secure message by clicking on the Banking menu in My AMP and selecting Send a secure message from the I want to menu. Simply fill out the form and we'll be in touch shortly.

Need help?
Monday to Friday 8am – 8pm and Saturday and Sunday 8am – 5pm (AEST)