Answer
If you can make your home loan repayments fortnightly, you can pay off your loan faster and reduce the interest you're charged over the life of your loan.
A lender will generally calculate your loan with monthly repayments, but if you can pay half the monthly amount each fortnight, you'll make the equivalent of one additional monthly repayment every year.
It's a tweak that's often overlooked, as occasionally people estimate that there are two fortnights in a month and therefore 24 fortnights in a year—when there are in fact, 26 fortnights in a year.
How does it work?
As some months have 30 or 31 days, over the course of a year, these 'additional days' make up two fortnights. So, by repaying your home loan fortnightly, you make 26 payments—the equivalent of 13 monthly repayments.
If you can afford to do it, it's a simple yet effective strategy to drive down the cost of your loan.
How much could I save?
Say you're making monthly repayments of $1,922 on a $350,000 loan, with an interest rate of 5.20% per annum.
If you continue to make monthly repayments, it will take you 30 years and cost you a total of $691,879. That's the principle amount you have to pay back, plus all the added interest charges.
By changing from monthly to fortnightly repayments—effectively meaning an extra payment of $1,922 a year—you'll pay off your loan four years and 10 months earlier and save $64,174 in interest charges.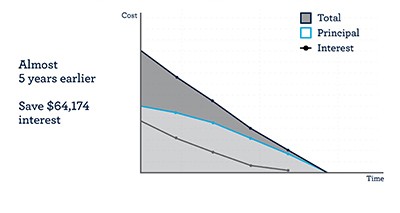 It's important to consider your particular circumstances and read the relevant Product Disclosure Statement or Terms and Conditions before deciding what's right for you. This information hasn't taken your circumstances into account.
This information is provided by AMP Life Limited. Read our Financial Services Guide for information about our services, including the fees and other benefits that AMP companies and their representatives may receive in relation to products and services provided to you. All information on this website is subject to change without notice.