Once you've put some thought into your short, medium or long-term investment goals, it's time to look into your investment options. Certain types of investments, or asset classes, may help you reach your goals in a way that suits you.
When considering different investments, consider some key points.
Your risk tolerance
Your risk tolerance is affected by two key factors: the amount of time you have to invest and your attitude to risk.
It's true that every investment involves some risk, but some are generally more unpredictable or volatile than others.
If you have a long-term goal, you may have time to ride through the market's ups and downs and thereby even-out the impact of risk on your investment.
On the other hand, if your goal is short-term, you may choose to take a more conservative approach, because you won't have the luxury of time.
But if you're comfortable taking risks and you have big investment goals, you may decide to invest in riskier options. If you're a conservative investor, you're likely to prefer safer investment options, even over the long term.
The type of investment
Your risk tolerance will influence the type of investments you make:
| Investment type (asset class) | General risk-return level |
| --- | --- |
| Cash (savings accounts, term deposits) | Low risk, possibly low returns |
| Fixed income (bonds, debentures) | Low risk, investments can be linked to inflation rate |
| Property (buildings, land, factories) | Moderate to high risk |
| Equities (shares) | High risk due to numerous economic and global factors |
We've covered some basic types of investments, but you could also consider:
insurance bonds—They're flexible, tax-effective investments for medium to long-term goals. You can invest a single lump sum or make regular contributions to build your wealth.
managed funds—Your money is pooled with that of many investors and invested across a range of asset classes and managed by a trustee or professional fund manager.
investing in property through a managed fund or super fund—This could give you exposure to a wide range of properties in Australia and overseas, which provides you with investment diversification so not all your eggs are in one basket.
Investing through your super fund
You probably already have money in a super fund. But do you know how it's invested? Some asset classes do better than others, delivering higher returns but at higher risk:
conservative or cash options—generally suit investors who don't want to take on much risk
aggressive or growth options—tend to suit investors who want to see high returns and are prepared for fluctuations in the sharemarket
balanced options—usually have a mix of conservative (lower risk) and aggressive (higher risk) options.
And speaking of super
Should you invest outside or within super? While there are generally tax and other benefits in super—which are not available with other investments—there are some restrictions too. A major factor to consider is that you won't have access to your money until you reach age 65 or retire.
If you are planning to access your money before retirement, investing outside of super will probably suit you better. You'll have more freedom over how you invest and you can access your money more readily.
| Benefit | Outside super | Inside super |
| --- | --- | --- |
| Access to your money | Accessibility will be determined by the investments you choose, because some investments are locked away for specified time frames. | Generally inaccessible until after a certain age or you retire. |
| How much can you invest? | No limits on how much you can invest. | There are limits based on your age, type of contribution and employment status. |
| Tax on investment earnings | Earnings from your investments are added to your taxable income (and declared at tax time) and taxed at up to 45 per cent(i) plus the Medicare levy(i). | Earnings within super funds are taxed at a maximum of 15 per cent. |
(i) The top marginal tax rate from 1 July 2014 to 30 June 2017 is 47 per cent, which comprises the standard rate of 45 per cent plus 2 per cent temporary budget relief levy (TBRL) for a period of three years.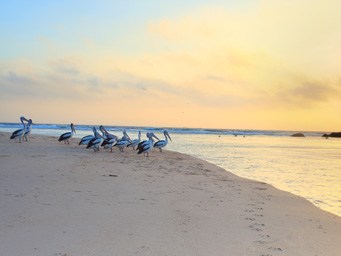 It's important to consider your particular circumstances and read the relevant Product Disclosure Statement or Terms and Conditions before deciding what's right for you. This information hasn't taken your circumstances into account.
This information is provided by AMP Life Limited. Read our Financial Services Guide for information about our services, including the fees and other benefits that AMP companies and their representatives may receive in relation to products and services provided to you. All information on this website is subject to change without notice.