If you worked a full-time job in Australia in 1975, the average amount you would've earned a year was about $7,600, whereas today, that figure would be closer to $72,0001, according to research by McCrindle.
That's welcome news, but while we're earning more than what we did in 1975, things are also costing us more. A loaf of bread is 10 times the price, a litre of milk is three times the price, a newspaper is 20 times the price, not to mention petrol has doubled, with house prices in some capital cities up thirtyfold2.
We check out the largest contributors to household spending today and where people say they would source additional money if day-to-day expenses increased further.
Housing, food and transport
The three largest contributors to household spending in Australia have been the same for many years, according to the Australian Bureau of Statistics (ABS).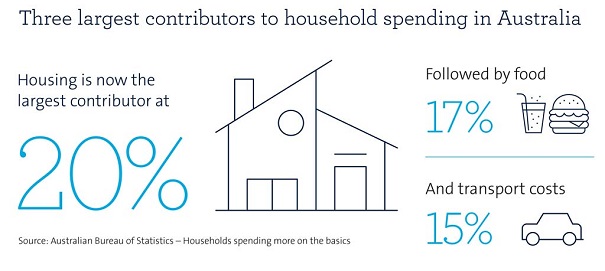 ABS figures reveal three-and-a-half decades ago the largest contributors to household spending were food (20%), transport (16%) and housing (13%), with housing now at the top of that list (20%), followed by food (17%) and transport (15%) respectively3.
A separate report by Deloitte highlighted that around 37% of Aussies were concerned about their ability to cover expenses, with more than 50% indicating that they expected to pay even more on housing and energy costs going forward4.
What people would do if costs rose further
When asked, if your day-to-day living expenses increased, where do you think you'd source additional money from, here was the top eight responses in a survey of Australians5:
Reduce luxury spending – 20%
Buy fewer groceries – 12%
Spend less on transport – 12%
Borrow money via a loan or credit card – 10%
Draw on savings – 5%
Spend less on food delivery and eating out – 5%
Cancel subscription services – 4%
Cancel streaming services – 3%.
After more tips and insights?
Now that you're aware that housing, food and transport are generally the biggest expenses for Aussie households, you may be looking at ways you could cut back and save in these areas.
We've written a number of articles that may provide some food for thought.
Check out:
Meanwhile, if you're an AMP customer and want help keeping track of what you're spending on things like your groceries, check out the Money Manager function inside of My AMP.
1, 2 McCrindle Research – 40 years of change: 1975 to today - table 2 and 3
3 Australian Bureau of Statistics - Households spending more on the basics - paragraph 5 and 6
4, 5 Deloitte Access Economics – ALDI household expenditure report - page 9 and 23
Budget planner calculator
Use our Budget planner calculator to assess your current financial position and how much you may be able to invest.

Start budgeting today
Explore your goals
Try our online tool to explore, prioritise and create your own goals timeline.

Start exploring
Discover a new way of banking
Imagine a bank account that helps you keep on track and tells you what's safe to spend.

Learn more
Recommended articles
Is our use of social media driving us to engage in conspicuous consumption? <br>Research shows it does.