Where your employees have not actively chosen an investment option, their super contributions will be invested into the AMP's MySuper lifecycle investment fund specific to the decade they were born in.
The AMP MySuper lifecycle investment fund's investment strategy and asset allocation to different investments will gradually change as the member gets closer to retirement. Over time, a member's superannuation savings will gradually be exposed to less risk.
In this way, younger investors will have higher growth investment strategies because they have more time until they retire and so have time to withstand the short term volatilities typically associated with growth assets in order to target higher returns. And for those investors approaching retirement, investments will focus on preserving the savings they've already accumulated and reducing risk.
How does AMP's lifecycle approach work?
The diagram below shows how AMP's MySuper lifecycle investment option works for an employee born during the 1990s.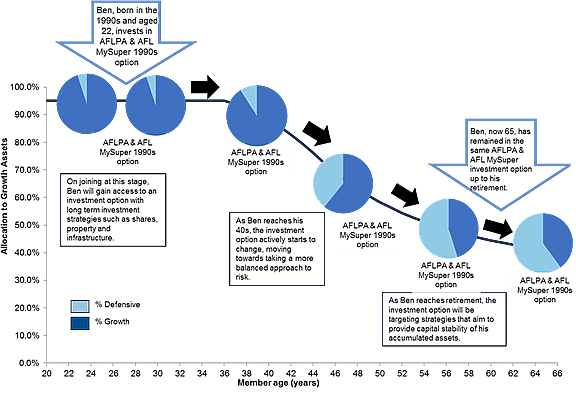 Benefits for your employees
This has advantages for members that do not take an active interest in their super because:
A member's investment allocation is actively managed on their behalf, even if the member never takes an interest in their super.
A member's super savings will be managed for them in a way that's appropriate for their age and time to retirement - the fund changes for them rather than the member moving between different investment options.
Members have the peace of mind that their superannuation is being managed to accommodate the shift in priorities as retirement nears - when they are most sensitive to large market movements.
As members' needs change, they will also have access to other services offered by AMP including consolidation, finding lost super and advice from a financial planner.
Benefits for you
This approach also benefits employers because:
Our MySuper investment approach is actively managed by a team of investment professionals. This means that you can rest assured that the super savings of those members who don't take an active interest in their super are being looked after by our dedicated team of experienced investment managers
As an employer, you are able to offer your employees a superannuation solution that automatically adjusts to their different stages of life
The member services that AMP offers to your employees means that superannuation is more than a compulsory obligation and is a great employee benefit for you to provide.
Want to keep up to date with the latest news? Sign up and be in the running to win 1 of 5 $300 Visa gift cards. T&Cs apply.
Sign up now
Recommended articles
You can invest your super in an ethical way without affecting your bottom line.