What do you need to live comfortably in retirement?
This will be different for everyone but it's useful to think about whether you'll have enough super for a modest or comfortable retirement.
It's important for you to decide what a comfortable lifestyle looks like for you. Here's a guide from the Association of Superannuation Funds Australia (ASFA) Retirement Standard on what you might need.
Lifestyle in today's dollars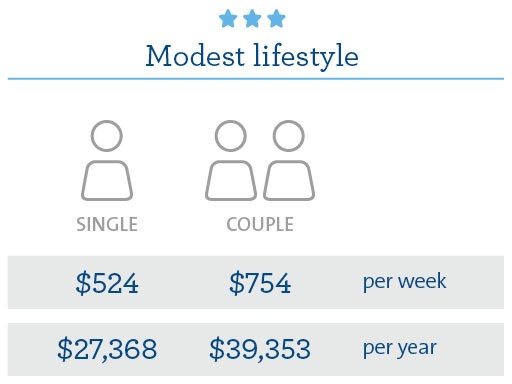 A modest retirement lifestyle is considered better than the age pension, but only covers fairly basic activities.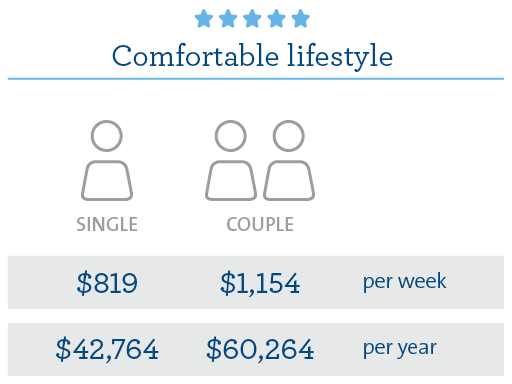 A comfortable retirement lifestyle enables an older, healthy retiree to be involved in a broad range of leisure and recreational activities and to have a good standard of living.
Lifestyle differences
This is a guide only and is the ASFA Retirement Standard. It's important for you to decide what a comfortable lifestyle looks like for you.
Super balance you'd need at retirement
| | |
| --- | --- |
| Modest (with full age pension) | Comfortable (with part age pension)  |
| $50,000 for an individual | $545,000 for an individual   |
ASFA Retirement Standard March quarter 2018. All figures assume the retiree(s) own their own home and are for expenditure by household. This can be greater than household income after income tax where there is a drawdown on capital over the period of retirement. Individual calculations are based on female figures.


Login to My AMP now to calculate what you need for the retirement you want
See how you're tracking towards your retirement goal.
Just run a projection from your online account and compare the differences between a modest or comfortable budget, or customise your own.
You can also use the calculator to understand what changes you could make to reach your goal.
You'll find the retirement calculator in the I want to menu.
More about the ASFA Retirement Standard
The ASFA Retirement Standard benchmarks the annual budget needed by Australians to fund either a comfortable or modest standard of living in the post-work years. It's updated quarterly to reflect inflation, and provides detailed budgets of what singles and couples would need to spend to support their chosen lifestyle.
Both budgets assume that the retirees own their own home outright and are relatively healthy. There are also estimates for older retirees.
Read more on the ASFA website or download the ASFA Retirement Standard.
All figures on this page are based on the ASFA Retirement Standard March quarter 2018 for those aged around 65.
Important information
It's important to consider your particular circumstances and read the relevant Product Disclosure Statement or Terms and Conditions before deciding what's right for you. 

This information hasn't taken your circumstances into account. This information is provided by AMP Life Limited ABN 84 079 300 379 (AMP Life). Read our Financial Services Guide for information about our services, including the fees and other benefits that AMP companies and their representatives may receive in relation to products and services provided to you. All information on this website is subject to change without notice.