It's likely you have a super fund looking after your superannuation. But that doesn't mean it should be set and forget - you may be missing opportunities to help give it a boost.
Super investments
When your employer makes a super payment on your behalf, your super fund will invest it in assets (like shares) that will hopefully help it increase in value over time. To help it grow even more, they'll use a compound investment strategy.
Compound investing
When super investments earn money, that money will be reinvested, which may create a snowball effect of investment returns earning their own returns.
The more a super investment earns, the more money that gets reinvested. The longer this happens, the longer there's an opportunity for it to keep growing.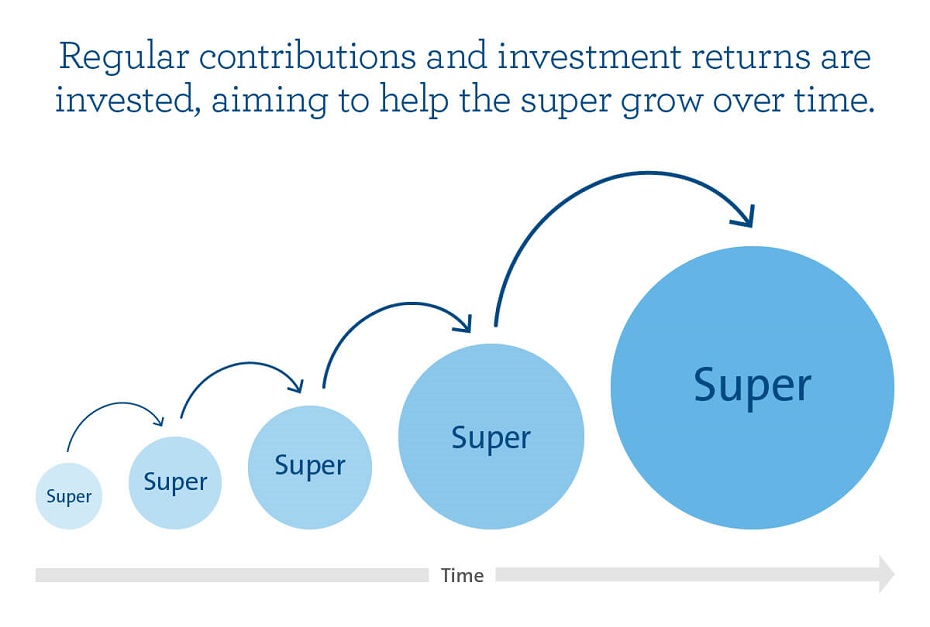 What is compound interest?
Video transcript
One potato, two potato, four potatoes, eight potatoes, sixteen, thirty-two, sixty-four - that's a lot of potatoes! And that's what happens when you compound a potato. But what happens when you compound money? Well, to know that, let's first look at what is compound interest.
Compound - or compounding interest, is interest that is paid on both the principal - the money you have - and also on any previous interest this principal amount has earned. It most commonly appears when people reinvest the interest they get, back into the original investment or principal. Basically, compound interest is earning interest on interest.
So, let's say you have a $1000 investment and earn 10% interest on it in the first year, and then that interest is reinvested into the original investment. In the second year, you would earn interest on both the original investment and the interest, so you earn a further 10% on the whole sum of $1100. Over time, compound interest will make much more money than simple interest -which is interest earned on the original amount only.
So, why not start thinking about how you can use compound interest to your advantage? Talk to your financial provider or seek financial advice.
Now… what am I going to do with all these potatoes?
Topping up, can make a difference
Adding more money to super, on top of what your employer's already paying, could make a difference to how much money you have down the track. Particularly because your super investments can make the most of this compounding effect.
Things to weigh up
If you're keen to top up your super and make the most of compound investing, make sure you're across the details first. Here are some of the key considerations:
Consideration
The detail
Regular contributions can help take advantage of the compound effect.
The more money invested, the more opportunity for returns to multiply on.
The value of super investments will go up and down.

Super investment returns will be impacted by things like fees, changing interest rates, market volatility and inflation.

Before making extra contributions, make sure you understand and are comfortable with any risks tied to your investment option.

Generally, the longer super is invested, the better the opportunity.
The multiplying effect has more opportunity to build over time and may balance out any market volatility.
Super isn't accessible until retirement.

You generally won't be able to access your super, any contributions you make, or any profits from its investments, until you retire or meet a condition of release.

There are exceptions, like the First Home Super Saver Scheme.    

There are limits to how much you can contribute each year.
If you go over the limits, additional tax will apply and there may also be penalties.
Super is generally a tax effective way to save for retirement.

Before-tax super contributions will typically be taxed at 15%.

However, if you earn $250k or above pa (including super) you could also be required to pay an additional 15% tax on some or all your before-tax contributions. Find out more.

There are a range of ways to top up your super.

Some of these ways include:

regular pre-tax contributions
one off contributions
spousal contributions

Different rules and tax laws apply to each of these, so make sure you're across the detail before deciding what's right for you.

Topping up may not be right for you.

Everyone's circumstances are different and putting extra money in your super may not be the most suitable option for you.

There are other ways to grow your wealth and build your retirement savings.

Before you act, consider all your options.
Talking to an expert like your adviser, can help you decide what's right for you and your circumstances.
What topping up could look like for you
Use the AMP A little extra calculator to find out what topping up your super payments could mean for your retirement savings.
Example 1 - Here's how adding $10 per week into her super before tax, helped Jane:

This calculation assumes Jane contributes to her super until she retires at the age of 67. This example is illustrative only and is not an estimate of the investment returns you will receive or fees and costs you will incur. This example is based on other assumptions and limitations. See the workings. 
Please consider your circumstances before deciding what's right for you.
Example 2 – Javier started topping up his super at age 40. He put $30 per week into super before tax. Needs to be $20 per week as per the graphic.

This calculation assumes Javier contributes to his super until he retires at the age of 67. This example is illustrative only and is not an estimate of the investment returns you will receive or fees and costs you will incur. This example is based on other assumptions and limitations. See the workings
Please consider your circumstances before deciding what's right for you.
Example 3 - a lump sum payment
At age 27, Esther had a $20,000 credit card debt after travelling for a year. She spoke with her adviser, who considered her circumstances and recommended that she pay off her debts before contributing money to her super. It took Esther two years to pay off her credit card debt, after which she spoke to her adviser again, and decided to make a one-off lump sum payment to her super of $2,000.
Important information
This information is provided by AMP Life Limited ABN 84 079 300 379 (AMP Life). It is general information only and hasn't taken your circumstances into account. It's important to consider your particular circumstances and the relevant Product Disclosure Statement or Terms and Conditions, available by calling 13 30 30, before deciding what's right for you. Read our Financial Services Guide for information about our services, including the fees and other benefits that AMP companies and their representatives may receive in relation to products and services provided to you.

All information on this website is subject to change without notice. Although the information is from sources considered reliable, AMP does not guarantee that it is accurate or complete. You should not rely upon it and should seek professional advice before making any financial decision. Except where liability under any statute cannot be excluded, AMP does not accept any liability for any resulting loss or damage of the reader or any other person.
The information on this page was current on the date the page was published. As a result of changes to the business from time to time, including changes to product, product issuer, services, trust, trustees and other entities, the information may no longer be current. For up to date information, we refer you to the relevant product disclosure statement and product updates.