The latest Financy Women's Index scorecard shows progress in some areas but a persistent gender gap in others.

"Such is life without a wife."
These are the words of my grandmother—the ones that too often remind me that for her, achieving financial security as a young woman was primarily about finding a husband, and less about having a career.
Today, I am thankful for the ways the world has changed and for the empowerment of women by women, and men. But as the author of the Financy Women's Index, I'm well aware there's still a long way to go.
Superannuation, workforce participation and leadership are three areas where more work is needed if we're to get serious about improving the economic progress of Australian women in 2019.
Making progress towards gender equality…
The Financy Women's Index for the December quarter, which is a scorecard on women's progress in Australia across education, work, superannuation and corporate board positions, rose 0.2 points in the December quarter to 126.3 points and reflects a 4.4 percentage point improvement on 121.9 points in December 2017.
Three trends primarily drove this result:
A record 3.21 million women in full-time employment, which also helped the participation rate hit a fresh high of 60.5% in 2018.
A record number of women pursuing higher educational qualifications. There were 839,278 women and 673,401 men, representing 55% v 45% of student enrolments respectively.
A 20-year low in the national gender pay gap, which fell to 14.6% in 2018 from 15.2% in 2017
.…but still more work to do
While 2018 was good for women, the rate of economic progress as measured by the Financy Women's Index actually fell by 1.7 points in 2017, to travel at its slowest pace since 2014.
A significant gender gap in superannuation weighed on the result, with women's retirement savings, on average, being 34% that of men's.
There was also a slowdown in the number of women appointed to ASX 200 boards, down slightly to 28.4%, during the second half of 2018.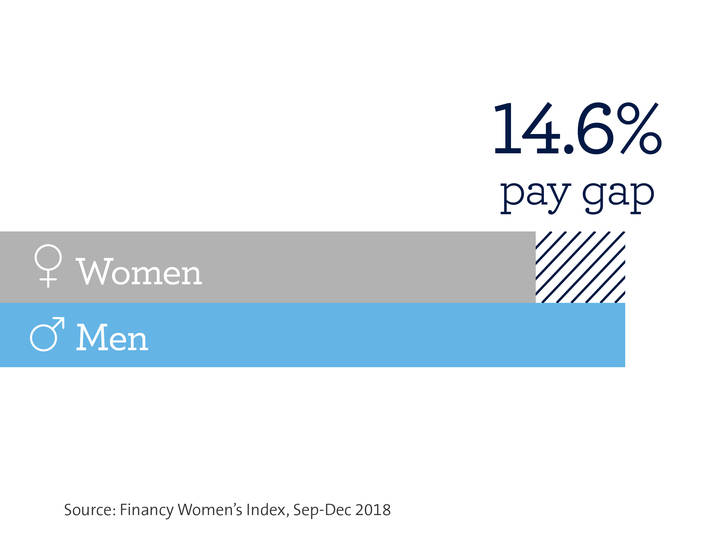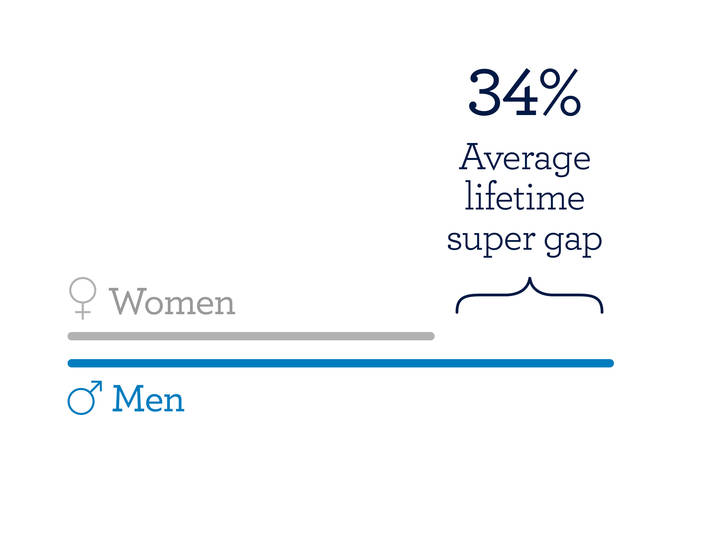 Longstanding gender imbalances in the labour market and superannuation are areas where greater focus is needed at a government, business and society level.
The Financy Women's Index found that while more women than men are pursing educational qualifications beyond high school that progress is not being matched in the labour force. Indeed it hasn't been matched for the past 20 years.
Last year, the number of women in full-time employment outpaced the level of male full-time employment growth.
The top three sectors, which saw the most growth by percentage, included Construction up 23%, Public Administration and Safety up 22% and Mining up 20%.
Within those three sectors, the result was mixed in terms of actions on the gender pay gap.
The Construction sector helped lower its gender gap by 5.1 percentage points to 15.1%, the gap in Public Administration and Safety fell by 1 percentage point to 5.8%, but in Mining, the gap widened by 0.9 percentage points to 16.9%.
Wanting to work more
Data continues to suggest there are more women than men who want to work but who are currently unable to do so. This may be due to many factors, notwithstanding the challenge of finding work that doesn't conflict with parental responsibilities.
The labour force underutilisation rate in Australia was higher for women aged 15-64 years old in October, (16.1% Oct 2018 v 16.5% Oct 2017) than it was for men (11.6% Oct 2018 v 12.4% Oct 2017) according to the latest ABS Labour Force Trend data1.
This underutilisation rate reflects the number of people who are unemployed or underemployed and who want to work more hours.
Helping women achieve their potential
For progress to continue in 2019, questions must continue to be asked about the factors holding women back in the workforce, and how can we address them.
Government, education bodies and business may need to consider what supportive measures they can introduce to ensure that women obtaining higher educational qualifications are being encouraged to return to work, particularly to advance their careers after breaks to have children.
At the same time, policies and awareness campaigns that promote men taking a greater role in raising children, working flexibly and undertaking other household work, and which increase the use of childcare will probably help address outdated but persistent gender norms.
Bianca Hartge-Hazelman writes on women's money matters for financy.com.au and is the author of the quarterly report, The Financy Women's Index – of which AMP Financial Planning is a sponsor. This article represents the views of the author only and does not necessarily reflect the views of AMP.
You might also be interested in
Important information
This information is provided by AMP Life Limited ABN 84 079 300 379 (AMP Life). It is general information only and hasn't taken your circumstances into account. It's important to consider your particular circumstances and the relevant Product Disclosure Statement or Terms and Conditions, available by calling 13 30 30, before deciding what's right for you. Read our Financial Services Guide for information about our services, including the fees and other benefits that AMP companies and their representatives may receive in relation to products and services provided to you.

All information on this website is subject to change without notice. Although the information is from sources considered reliable, AMP does not guarantee that it is accurate or complete. You should not rely upon it and should seek professional advice before making any financial decision. Except where liability under any statute cannot be excluded, AMP does not accept any liability for any resulting loss or damage of the reader or any other person.