Planning your SMSF investment strategy
When it comes to investment options for self managed superannuation funds (SMSFs), you get a lot of choice. Your fund can invest in:
As well as a wide range of investment choice, you get to choose the mix of investments for your fund through an investment strategy. You should plan this strategy based on the investment goals and circumstances of the fund's members.
Below are a few things to consider when you're planning your investment strategy.
Diversity
Diversification is about investing in a variety of assets so that no single asset drives the performance and risk of a portfolio. It can mean positively performing investments balance out the negatively performing ones.
This can help lower the risk across a portfolio and smooth out investment returns over time. While this may not lead to huge gains, the effect of big losses may not be felt as strongly.

Liquidity
Although you're generally unable to access your super until retirement it's still important to consider how accessible cash is in an investment (eg an at-call deposit account is very liquid, while property is not).
SMSFs can have a combination of liquid and illiquid assets so you may need to think about cash flow and when you'll need access to your money. For example, if a member passes away, the trustees may need to access cash within the SMSF to pay out the estate of the deceased.
Asset allocation profiles
Asset allocation is how your investment portfolio is spread across different investments. Asset allocation can often involve considering the split between growth investments (generally more aggressive) and interest bearing investments (generally more conservative).
Based on a minimum balance of $200,000 as recommended by the Australian Taxation Office (ATO), and as an example, a diversified portfolio might invest the following amounts in each asset class.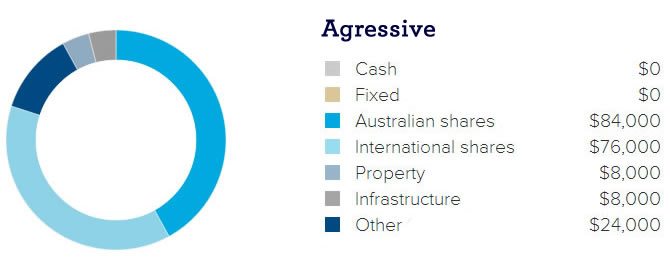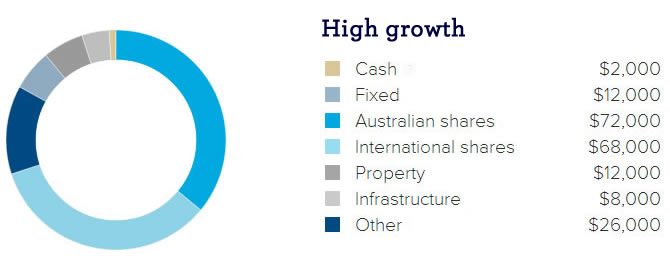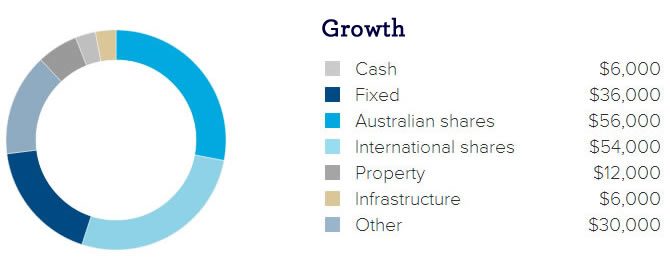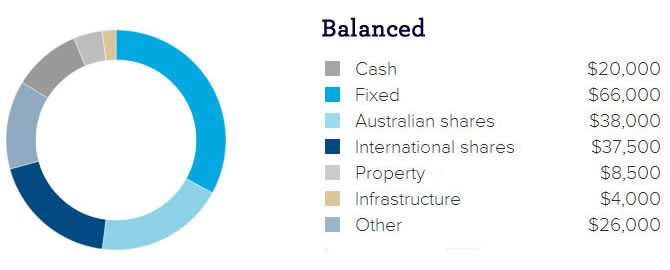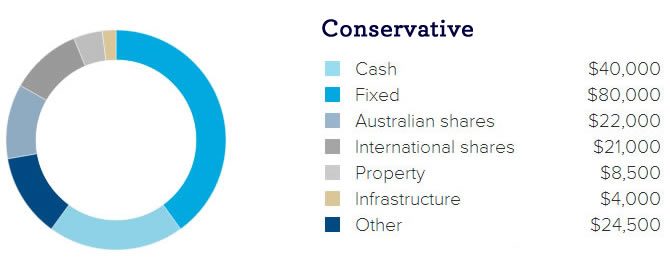 Comprise cash management account or cash management trust holdings and bank guaranteed short term deposits.
Fixed
Bank deposits, bank bills, debentures, mortgage funds and managed fund investing in interest rate securities. Convertible notes, reference shares and hybrid securities issued by companies within the ASX200.
Australian shares
Shares within the ASX 300, diversified managed funds and theme based managed funds.
International shares
Shares listed on major world exchanges, managed funds with diversified regional exposure, and funds which are invested in specific regions.
Property
Direct property, listed property trusts with the ASX200 Property Index and managed property funds, trusts or syndicates.
Infrastructure
Infrastructure assets can offer investors stable inflation-linked cash flows and capital growth potential. These assets represent the opportunity to access the utilities and facilities that provide essential services for economic growth.
Other
There are many other different types of investments, including art and collectibles, hybrids (a combination of fixed income and equity investment), hedge funds and private equity.
This is an example diversified portfolio only. You should speak to your financial adviser if you require personal financial product advice.
Source: Strategic asset allocation is based on AMP Capital Future Directions Funds.
Conservative: AMP Capital Future Directions Conservative Fund.
Property and super
You can use your SMSF to buy residential or commercial property. But any property held by your SMSF must meet the sole purpose test and only be used to provide retirement benefits for fund members (or for a member's dependants if the member dies before retirement).
We have the solutions to help you take charge
Show more
Cash
If you're looking for a simple way to manage your SMSF's cash flow, you can earn a competitive interest rate and still have ready access to your money with the AMP SuperEdge Cash Account.
Term deposits
Term deposits can give you the security of knowing exactly how much interest you'll earn. They can also provide a regular income stream during retirement.
AMP Bank offers competitive interest rates with terms from one month to five years.
Australian shares
Australian shares are a favourite growth investment choice for SMSFs, providing a number of benefits, like tax advantaged franked dividends.
AMP's Personalised Portfolio lets you build a customised investment portfolio with a choice of direct shares, professionally managed model share portfolios, specialist funds and cash.
Specialist funds
Specialist investment funds can complement your other investments, helping to diversify your investment risk and capture new opportunities in your portfolio. They can also give you access to international markets, large-scale investments you couldn't access on your own or sectors that require specialist skills to manage the investment.
AMP Capital offers a range of funds, including:
Australian shares
fixed income
property
infrastructure
multi-asset funds.
Property
With an SMSF, you can invest directly in residential or commercial property using the funds you've accumulated in your super, to provide additional diversification across the fund's portfolio.
If you would like to borrow money to purchase an SMSF property, you will need to get a special type of loan called a limited recourse borrowing arrangement (LRBA).
Find out more about property and SMSF
Investment platforms
Investment platforms are an efficient way to access, transact and report on your investment portfolio. You can use a platform to invest in cash, term deposits, managed funds, listed Australian shares and model share portfolios. You can manage and transact on your investments online, and also receive consolidated investment and tax reporting.
AMP Personalised Portfolio gives you access to a broad range of listed Australian shares, managed funds and model share portfolios.
Advice
Whether you want to talk about starting up an SMSF, sound out an investment idea or get a detailed plan together, you can request financial advice on your SMSF. Advice can help you stay on track with your SMSF and your investment strategy.
For advice about your super, call us on 1300 767 483 and we'll arrange for an adviser to be in touch.
Insurance
Under superannuation rules, you must consider the life insurance needs of your fund members as part of your SMSF's investment strategy.
We offer a range of insurance products to help you provide financial security for you and your family, including: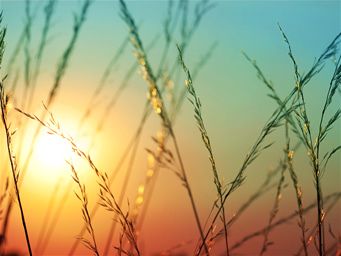 It's important to consider your particular circumstances and read the relevant Product Disclosure Statement or Terms and Conditions before deciding what's right for you. This information hasn't taken your circumstances into account.
This information is provided by AMP Life Limited. Read our Financial Services Guide for information about our services, including the fees and other benefits that AMP companies and their representatives may receive in relation to products and services provided to you. All information on this website is subject to change without notice.
AMP SMSF Solutions is offered by Australian Securities Administration Limited, an AMP company.