This year has seen plenty of activity in financial services, and at AMP. We've been on a transformation journey to make sure our customers are at the centre of everything we do. Here's a summary of just some of the ways we're helping your employees own their tomorrow.
Improving financial literacy
We're helping your employees through new ways of communicating with us, and we also want them to feel financially empowered.
This year we've published seven News & insights newsletters which were sent out to employees, providing education on a range of topics from the government's federal budget announcement in May through to retirement solutions. You can find more articles on amp.com.au.
We also increased the range of free education modules available online in My AMP for employees to access anytime. The modules cover basics on super, insurance and investments as well as key financial decisions, such as buying a home.
Look out for more information about financial education in 2016.
Supporting your super members
As a part of our commitment to establishing long-term relationships with each and every customer, we've improved the on-boarding experience for new corporate super members.
The new multi-channel welcome experience incorporates personalised welcome collateral, a welcome video and help for members to consolidate their funds. It also gives each member the opportunity to tell us how they want to be engaged with their super.
And in September, we launched the redundancy support program to provide ongoing support for our corporate clients during a difficult time.
Introducing new technology
We've been actively investing in technology to make it easier for customers to access their finances and contact us.
We started the year with the launch of AMPWave, our contactless payment option from AMP Bank for Android mobile phones. AMPWave turns a mobile phone into a mobile wallet—making it convenient for customers to pay for items up to $100. So if you bank with us, simply tap and pay and you're ready to go.
Then we introduced web chat—a communication system allowing us to connect with customers when they visit amp.com.au, and allowing them to contact us when it suits. Next time you're on amp.com.au and need our help, simply click on the accept button when web chat appears on the bottom right of the screen.
Lastly and most importantly, in the last edition of employer news you would've seen the upgrade we made to our secure site – My AMP. The new site allows customers to access their finances all in one place on mobile, tablet and PC, making managing money effortless.
Finishing the year on a win
We were thrilled to see our SignatureSuper product take out two awards from Super Review – Best Commercial Fund and 2015 Super Fund of the Year.
The awards were judged by independent experts—The Heron Partnership, who highlighted SignatureSuper's well-structured financial advice service, impressive technology and quality administration.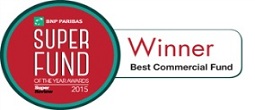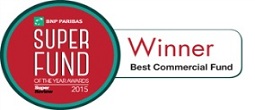 How we can help
Putting customers at the centre of everything we do has certainly kept us busy this year, and we look forward to continuing to support you and your employees in 2016.
If you'd like to know more about how we can help, explore amp.com.au or contact your account manager.