Kicking some super goals
If the kids are finishing up at school and you're finally getting on top of your home loan, it might feel as though you've got a little more money to play with after managing your finances carefully for so many years.
It's great to have a bit more breathing space. It gives you more scope to take care of your immediate financial needs while you're still working.
But you also need to take care of your future financial needs. You need to make every dollar count before making the transition to the next stage of your life—whether you're planning to gradually wind back your hours at work or finally enjoy a comfortable retirement.
You're aware that retirement is a whole new ball game. And like many people, you've probably started thinking about your retirement dreams—taking that trip of a lifetime to Europe, joining the grey nomad trail around Australia or simply spending quality time with friends and family.
And as Australians live longer and enjoy more active retirements, you'll need your retirement savings to last the distance.

So before you start to enjoy your retirement dreams, you need to take every chance to kick some goals with your superannuation.
The power of sacrifice
One way to power up your super savings is 'salary sacrifice'. By sacrificing some of your take-home pay, you can boost your super and pay less tax.
When you salary sacrifice, you make what's known as 'concessional contributions' to your super. And these concessional contributions carry serious tax advantages. Contributions are taxed at only 15% (or 30% if you earn over $300,000 a year), which for many people is lower than their marginal income tax rate.
With increasing pressure on the public purse, the Government is keen to encourage us all to save more to fund our own retirements. So it has increased the amount you can contribute towards your super using pre-tax dollars.
The general concessional contributions cap has gone up from $25,000 to $30,000 a year. And if you're aged 49 or over, it's even better. The cap has increased to $35,000 a year—previously only available to those aged 59 and over.
So there's every incentive to kick some more super goals.
Cathy's story
If you earn over $18,200 in the 2014/15 financial year, salary sacrifice could help reduce the amount of tax you pay.
Let's look at how it could work in practice.
Cathy, aged 50, is a teacher who earns $85,000 a year and has $150,000 in her super account. She receives the compulsory 9.5% Super Guarantee contribution from her employer of $7,600 in the 2014/15 year.
Cathy is keen to start saving more for her retirement in a tax-effective way.
She decides to sacrifice $82 a week from her pre-tax salary to her super—that equates to $50 from her take-home pay after tax.
After a year in a typical growth-based portfolio, Cathy's super balance would be $3,756 better off1.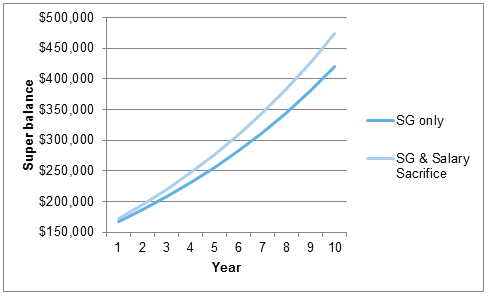 And as you can see in the above graph, in the 10 years leading up to retirement Cathy can build her super nest egg by an extra $52,851. That's an overall benefit of $26,851, just by sacrificing $50 a week from her take-home pay.
Act now!
If you leave it until the end of the financial year, you're unlikely to have the spare funds to take full advantage of the increased cap. So it's a good idea to set up your regular 'salary sacrifice' arrangement as soon as you can to maximise your entitlements.
Contributing to your super at the concessional tax rate is simple.

If you're an employee, talk to your employer about setting up a regular salary sacrifice arrangement from your pre-tax salary to your super fund.
If you're self-employed, talk to your AMP financial adviser about making tax-deductible personal super contributions to achieve the same result.
1 Assumptions: A growth-based portfolio (3% pa income, 5% pa growth, 50% franking) plus a 0.70% pa asset fee and salary indexed at 2.7% pa.
What you need to know
Any advice in this article is general and does not take into account your personal circumstances so before making any decisions please consider your circumstances.