The Master of Financial Planning provides a pathway for new advisers entering the profession, and existing financial advisers in the AMP network, to further their education.
What differentiates this Masters from others in the marketplace? It is the only one of its kind that combines the theoretical expertise of a university with the practical implementation of Australia's largest financial advice network. This qualification isn't just about learning theories and models; it's also about putting them into practice with one of the country's most respected financial institutions.
On completion of the modules in one and a half years (full time) or two and a half years (part time), you will:
Meet FASEA education standards for existing advisers
Be eligible to join one of the practices within the AMP network as a financial adviser.
Have the option to further your education by progressing towards the CFP designation, since you now qualify for three exemptions.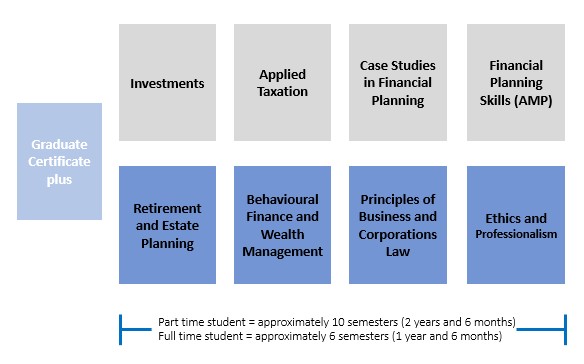 Eligibility
To be eligible for the Master of Financial Planning you need:
Access to a reliable computer with a high-speed internet connection, webcam, and microphone.
Business acumen and motivation to become a financial adviser with AMP upon graduation.
The focus and dedication needed to commit to online study.
Permanent residence or Australian citizenship.